At Edge Metalworks we love using laser cutting to provide our customers the most precise metal components for their manufacturing needs. Our laser-cutting process uses top-of-the-line technology, and our team's attention to detail ensures that each component leaves our shop to our customers' minute specifications with a quick turnaround. Laser cutting has opened up a lot of doors in the manufacturing world, let's take a look at the history of laser cutting and how the evolution of the industry has shaped our laser cutting process.
The History of Laser Cutting
The idea of laser cutting, like many innovations in the early 1900s, stems from an Albert Einstein theory. His theory of "Stimulated Emission of Radiation," is the foundation of lasers and laser cutting, and got the ball rolling for future innovators to develop the laser cutting processes we use today.
In the late 1950s Gordon Gould expanded on Einstein's ideas, publishing a paper that suggested that the stimulated emission of radiation could be used to amplify light. This theory was called "Light Amplification by Stimulated Emission of Radiation," or Laser for short. The first working laser was created in 1960, and in 1964 a scientist at Bell Labs developed the first thermal cutting machine using lasers and our industry was born.
Since then metal laser cutting has evolved ten-fold, and laser cutting machines are able to quickly and efficiently make precise cuts to fit the needs of modern manufacturing. At Edge Metalworks we have been in the industry for over ten years, and have our fingers on the pulse of laser cutting innovations to better serve our customers.
The Edge Metalworks Laser Cutting Process
Our laser-cutting process combines our vast experience with the newest innovations in laser-cutting technology. By focusing on quality, relationships, and timely delivery, we set the industry standard for laser-cut parts.
Focus on Manufacturing
Many laser-cutting shops offer a wide variety of services that can clutter the shop and increase lead times. At Edge Metalworks we focus exclusively on the manufacturing industry. This allows us to run an efficient shop and get our customers the tools they need to manufacture their products in a timely fashion.
Unmatched Customer Service
We offer our customers a different kind of relationship. We see ourselves as a production ally, working hard with them to meet their deadlines and ensure their products exceed their customers' expectations. We don't cut any corners in the ordering process with our clients; we sit down face-to-face to work out the best and most efficient way to solve problems.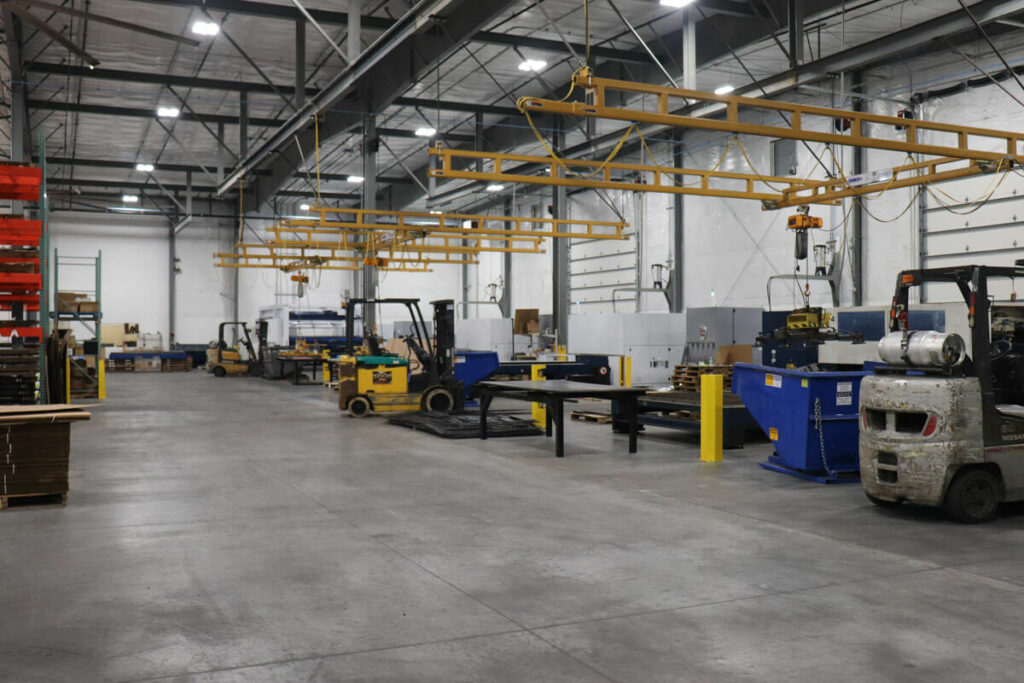 Keeping a Clean Shop
Laser cutting can be a messy process, and if you've ever been in a metalworking shop you know that it's easy to let the cleanliness of the shop get away from you. At Edge Metalworks our team of technicians and engineers pride themselves on keeping a clean shop to ensure we can stay as efficient as possible.
Top of the Line Technology
In our 10+ years of experience, we have seen dozens of laser-cutting innovations come and go. Over that time we have invested in machines that best accommodate both our own and our customers' needs. In 2022 we worked with Trumpf to add the TruLaser 5030 fiber laser cutter to our toolbelt. This is a 24kw laser and perfectly complements our 4, 6, and 10 kw lasers. The Trulaser 5030 fiber also allows us to cut metals at a faster pace. Check out our recent blog post that fully covers what this innovative laser cutter brings to our shop!
On-Time Delivery
A shop could produce the best laser-cut parts in the industry, but that doesn't matter if they aren't delivered on time. In the manufacturing business time is money, and our team is committed to meeting deadlines so you can meet yours.
Are you looking for a new laser-cutting partner? Contact Edge Metalworks today!